Virtual Seminar
New Ways to Think about Taxonomy:
The Role of Taxonomies in Your Organization
You'll learn to…
Use multiple taxonomies to describe aspects for a piece of information
Leverage your taxonomy when implementing your wayfinding solutions
Improve search applicability and improve both precision and recall
Create a unified search approach for known and discovered content
Topics:
Do your users like to search or browse? Everyone does both and a well-constructed taxonomy will greatly improve their success at finding their desired content and enhancing their discovery of the knowledge hidden deep in your site.
Implement your taxonomy well and it becomes the organizing principles that drive your metadata standards and your information architecture, and, when you're ready, your faceted search and your semantic search. A great taxonomy will even drive a successful Web 2.0 implementation and help you reduce costs in designing and deploying your site.
To help, we've asked Seth and Stephanie, experts in creating and maintaining sophisticated taxonomies, to broaden your thinking about how a taxonomy can make your life easier, whether you're designing a public-facing web site or a large-scale intranet. In this 90-minute online session, you'll see detailed examples of taxonomy applications and how to leverage key design principles across your organization. Stephanie and Seth will give you a better understanding of your own taxonomy and the navigation of your information. You'll get your content management system under control and improve your search results.
Ever have trouble explaining why a taxonomy is important to your colleagues at work? Seth and Stephanie will show you how. You will also hear three detailed case studies: Motorola, American Greetings, and The Urban Land Institute.
Use multiple taxonomies to describe aspects for a piece of information

Leverage your taxonomy when implementing your wayfinding solutions

Improve search applicability and improve both precision and recall

Create a unified search approach for known and discovered content
Purchase this presentation today, so you can stop wrestling with the organization of information on your web site or intranet.
Stephanie explains what you'll learn in this 90‑second preview…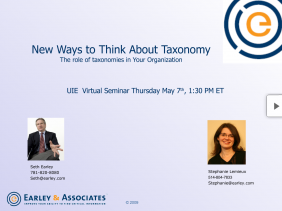 Why Stephanie?
Hopefully, you saw Stephanie co-present with Seth Earley in 2009 when they rocked their New Ways to Think About Taxonomy Virtual Seminar. Stephanie and Seth did an amazing job showing us the different roles that taxonomies in our organizations. (If you missed it, you can still watch the recording.)
As soon as we met her, we fell in love with Stephanie's easy-going style and smart approach to designing site navigation. We've love the work she's done at Earley & Associates, where she helps her clients choose and implement the perfect blend of tagging and taxonomies.
Integrating folksonomies into large-scale web sites is the type of challenge Stephanie Lemieux lives for. We're impressed with the depth and insight she brings to her evaulations of taxonomy management and virtual collaboration tools. That's why we're thrilled she's delivering this new seminar on making folksonomies work for your site.