Virtual Seminar
Comps vs. Code: Case Studies on Collaboration Between Site Designers & Developers
Tuesday, July 21
90 minutes
1:32pm ET
Understand the value of building in time to review deliverables at the end of each phase
Review components such as artwork and templates with your developer during the design phase
Understand why lightweight prototyping is helpful and should not be feared
Understand why you should formalize this collaboration, but also why you should tailor your own team's needs
Topics:
We're like ships passing in the night. It's not me, it's you. Can't we still be friends? When the pressure is on, this is how the work relationship between designer and developer can feel. So, whether you're a designer, a developer, or someone who manages either, consider this: You may want some couples' therapy to help deliver effective, two-way communication on your projects.
Understand the value of building in time to review deliverables at the end of each phase

Review components such as artwork and templates with your developer during the design phase

Understand why lightweight prototyping is helpful and should not be feared

Understand why you should formalize this collaboration, but also why you should tailor your own team's needs
Ethan explains what you'll learn in this 90‑second preview…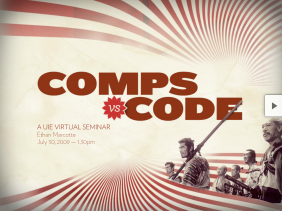 Why Ethan?
There's no better person to see both sides of the designer/developer relationship than Ethan Marcotte. He's greatly respected and known for his groundbreaking work. Ethan has worked with New York Magazine, Harvard University, Disney, and State Street Bank, just to name a few.
Ethan describes himself as a "designer/developer" hybrid. With talents in both disciplines, he's seen it all, and can relate to the challenges that exist at every phase of a project.
Ethan Marcotte is a web designer/developer living in Cambridge, MA.. He co-authored the third edition of Designing With Web Standards with Jeffrey Zeldman and worked with Dan Cederholm on their new book, Handcrafted CSS: More Bulletproof Web Design. Watch for Ethan's Responsive Web Design from A Book Apart, out in early 2011. Ethan is passionate about web standards, gorgeous design, and how the two intersect. You can follow Ethan on his blog and personal website, Unstoppable Robot Ninja.