Virtual Seminar
Recognize the differences between visual vs. structural CSS3
Understand compatibility and browser support, as well as browser-specific CSS
Understand CSS transitions & understand their potential downsides
Take part in talking about the future of CSS
Topics:
Web Standards shouldn't just be for people who care about accessibility and compatibility across devices and platforms. Standards are quickly becoming the core tools of some of the best sites, apps, and experiences on the web. The latest browsers are now supporting all of CSS2.1, much of CSS3, and increasingly, HTML5, designers can now call these tools our friends.
Using practical examples and exercises, Dan will show you how today's leading sites are using advanced CSS to move some of the visual heavy-lifting to the browsers. We'll examine live sites, then take them apart to see how their designers are using CSS to implement visual design, and how they degrade in less-than-modern browsers. We'll also build an example design to see just how easy (and practical) it is to incorporate advanced CSS in your designs, so you'll leave with the confidence to put these capabilities to use right away.
This seminar is perfect for you if you are a designer or developer already familiar with basic web standards (HTML/CSS) and ready to start including more advanced CSS in your projects.
Recognize the differences between visual vs. structural CSS3

Understand compatibility and browser support, as well as browser-specific CSS

Understand CSS transitions & understand their potential downsides

Take part in talking about the future of CSS
Dan explains what you'll learn in this 90‑second preview…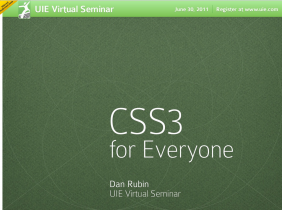 Why Dan?
To learn the essentials of visual design, you need a good instructor. That's where Dan Rubin comes in. He's one of the web's rising stars, responsible for many great web site designs. Moreover, he's a great teacher. He's got a fun, easy way for anyone to learn the nuts and bolts of graphic presentation.
Dan is a highly accomplished user interface designer and usability consultant, with over ten years of experience as a leader in the fields of web standards and usability, specifically focusing on the use of (X)HTML and CSS to streamline development and improve accessibility.
His passion for all things creative and artistic isn't a solely selfish endeavor either. You'll frequently find him waxing educational about a cappella jazz and barbershop harmony, interface design, usability, web standards, typography, and graphic design in general.