Virtual Seminar
Persuading Your Users through Visualization: The Quest for Emotional Engagement
Wednesday, November 23
90 minutes
10:12am ET
Make complex information easy to understand with interactive models
Wield basic graphic design skills that anyone can use
Visualize dynamic information
Use metaphors and stories to make sense of complicated information
Topics:
Technology helps us be better. It's encouraging us to exercise more or eat right. It monitors our medications to ensure we're getting the best results. And it helps us develop better techniques to manage our productivity. However, all this doesn't happen by itself. To be effective, our designs must engage our users on an emotional level.
Designer extraordinaire, Stephen P. Anderson, will show us how to achieve that emotional engagement. You'll discover the core properties of what it takes to connect with your users. With wonderful, yet common, examples, Stephen will break down the underlying concepts and reconstruct them. Applying core psychological and persuasive concepts, you'll bring out a rewarding experience for every user.
Make complex information easy to understand with interactive models

Stephen will help you see patterns of information with new eyes. He'll show you some simple techniques that make a world of difference in some common examples.

Wield basic graphic design skills that anyone can use

You can do more than dress up your data. With attributes like form, color, and spatial positioning, you can present your information in useful and engaging ways.

Visualize dynamic information

Stephen will show you how to break down examples of complex information with techniques like identifying redundant information and replacing some information with visuals. He'll show you how to reconstruct those same examples in a visual way that even a 5-year old understands.

Use metaphors and stories to make sense of complicated information

You'll see how to create a visualization for your audience that makes sense of a problem. Some simple steps can inform, converse, or persuade. You'll help your users make informed decisions.
Stephen explains what you'll learn in this 90‑second preview…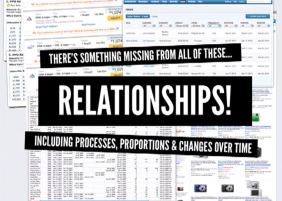 Why Stephen?
We've been following Stephen's work for a few years now, and the audiences loved his talk at this year's Web App Masters Tour. If you missed the tour stops, here's your opportunity to see some great new thinking on complex information visualization.
Stephen has explored the art and science of integrating seductive interactions into applications. We know you'll enjoy his great new thinking on using psychology within your design.
He is the mastermind behind Mental Notes card deck, and is the author of a must have for your library, Seductive Interactions from New Riders Press.
There's real insight in Stephen's thinking, which he's tested out in his project work for folks like Frito-Lay, Chesapeake Energy, Sabre Travel Network, and Nokia. You can check out his thinking at his site, POETPAINTER.