Virtual Seminar
Voice and Tone: Creating Content for Humans
Nail your brand voice—and keep it consistent
Write content with personality
Tackle humor, honesty, and transparency
Craft a practical style guide
Topics:
The organizational content we're creating for the web is too often formal, lacking emotion. Writing content for humans is challenging, and doing it while articulating your organization's personality is even more difficult.
MailChimp is one company that's successfully established a brand voice—and is still working to keep it. As a result, they've become known for their punchy, honest messaging that builds trust with users and makes them smile, too.
Hear from Kate Kiefer Lee—the woman behind MailChimp's interactive style guide at VoiceandTone.com—about how to establish voice guidelines that inspire your writers' creativity.
She'll share real-life examples of empathetic writing and talk about the importance of establishing content standards that make corporate writing fun.
Nail your brand voice—and keep it consistent

You'll create content that your users love to read.

Start with empathy to write conversational copy
Determine which questions to ask that reflect your customers' perspective

Write content with personality

You'll hear how tone and voice are related (and how they're different, too).

Read your writing out loud to identify any robotic language
See examples of good (and not so good) copy

Tackle humor, honesty, and transparency

You'll answer users' questions with genuine content.

Determine when to inject humor and specificity—and when to keep a straight face
Reflect the people behind your organization to build trust with users

Craft a practical style guide

You set standards for content creators and teach your organization's brand voice.

See writing guide examples from orgs like Warby Parker, Tufts University, and Gov.UK
End your struggles in establishing a cohesive voice across many writers
Kate explains what you'll learn in this 90‑second preview…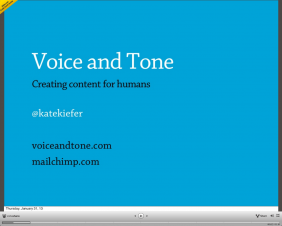 Why Kate?
OK, so if you love super boring presenters, you probably won't enjoy Kate Kiefer Lee. After all, her energy and sense of humor already can be gleaned from the MailChimp copy so many of us have come to enjoy reading.
She works with creative, marketing, and editorial teams to find the customer and company stories that need telling—then writes them for human readability. As a result, she's become a leading authority in helping organizations establish style or writing guides that are empathetic and realistic.
Before MailChimp, Kate worked as a magazine editor in Atlanta, where she lives with "giant dog and average-sized husband." Find more about Kate on Twitter @katekiefer.