Virtual Seminar
8 Better Practices for Great Information Architecture: Closing the Findability Gap
Diagnose the important problems
Balance your evidence
Advocate for the long term
Measure engagement
Support contextual navigation
Improve search across silos
Combine design approaches effectively
Tune your designs over time
Topics:
You want your users to find information on your site, right? Yet this thing we call findability seems to be elusive. Why?
In many cases, it's due to questions you probably can't answer, such as: Who are your content's primary audiences? Are you satisfying those tasks and needs? How do you measure success?
In this seminar, Lou Rosenfeld shows you how to answer some of those questions and close the findability gap through 8 better practices from information architecture.
There are new opportunities for Information Architects to add significant value to projects. There exist new metrics for measuring engagement with your site visitors. These measures will guide you towards design decisions that let your users find what they're after.
Diagnose the important problems

IA is still evolving and Lou will share some great new tools with you. He'll lead you through the Zipf curve, which tells us that not all problems are equal. You'll see a little goes a long way helping you focus on the stuff that matters.

Balance your evidence

It's a design team member's responsibility to make evidence-driven design decisions. You'll need to get comfortable with things like analytics data. Balanced research leads to true insight and new opportunities.

Advocate for the long term

Business context remains as critical as ever. The strategy behind a project guides and stabilizes your project work. Don't lose sight of the "why." Pace layering is one tool that will put your design focus where it should be.

Measure engagement

Making evidence-based design decisions is a great start. We also need to know that our work is making a difference. Every aspect of a user engaging your system, application, or site presents an opportunity for measurement. The missing metrics of in-betweenness will answer questions about your site visitors, and tell you more about them than than just your site conversions.

Support contextual navigation

Too few organizations are investing in improving their deep content's contextual navigation. Through content modeling, you'll uncover the content and metadata that matters most. It's a huge opportunity to improve the users experience.

Improve search across silos

You'll understand the importance of specialized search queries, as well as designing specialized search results.

Combine design approaches effectively

This is about integrating all of these areas. It's about how you balance all the great things your algorithms can do for us with all the great things humans can do for us. Lou will show you examples with narrow and deep content access, editorially rich content, and combinations of results displays.

Tune your designs over time

You'll get people to see that this work needs to about process, rather than a time-boxed project. Defeat entropy by doing constant tuning and continual improvement. Lou will support this step with examples from education and government.

You'll come away with a better understanding of what Information Architecture can do. If you're in the field, Lou will help you with what you bring to the table, and show you opportunities to move the field forward. Design team leaders and hiring managers, you'll know what to look for in your quest for the next great addition to your team.
Close that gap to better findability for your site visitors. Sign your team up for Lou's November 3 seminar today.
Louis explains what you'll learn in this 90‑second preview…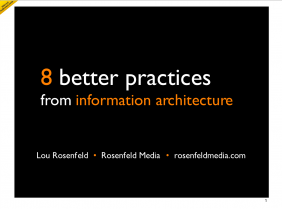 Why Louis?
Lou Rosenfeld is one of the most recognized professionals in the world of user experience design. He's an independent information architecture consultant and founder of Rosenfeld Media, a user experience publishing house, with authors from UIE events, like Luke Wroblewski and Whitney Quesenbery.
Lou has been instrumental in helping establish the field of information architecture, and in articulating the role and value of librarianship within the field. He's worked with such organizations as PayPal, AT&T, Caterpillar, Ford, Microsoft and the CDC to make their own information easier to find. Plan to learn some of what they currently employ in their own site search analytics.
He is co-author of Information Architecture for the World Wide Web, considered the bible of the field (you know it, it's the Polar Bear Book he wrote with Peter Morville!), and was a regular contributor to Web Review, Internet World, and CIO magazines.
In 2011, Lou published the much anticipated Search Analytics for Your Site.
He is co-founder of the Information Architecture Institute and helped found the Information Architecture Summit. You can get a taste of his incomparable insight at his blog, www.louisrosenfeld.com.