Virtual Seminar
New Ways to Think about Taxonomy:
The Role of Taxonomies in Your Organization
Use multiple taxonomies to describe aspects for a piece of information
Leverage your taxonomy when implementing your wayfinding solutions
Improve search applicability and improve both precision and recall
Create a unified search approach for known and discovered content
Topics:
Do your users like to search or browse? Everyone does both and a well-constructed taxonomy will greatly improve their success at finding their desired content and enhancing their discovery of the knowledge hidden deep in your site.
Implement your taxonomy well and it becomes the organizing principles that drive your metadata standards and your information architecture, and, when you're ready, your faceted search and your semantic search. A great taxonomy will even drive a successful Web 2.0 implementation and help you reduce costs in designing and deploying your site.
To help, we've asked Seth and Stephanie, experts in creating and maintaining sophisticated taxonomies, to broaden your thinking about how a taxonomy can make your life easier, whether you're designing a public-facing web site or a large-scale intranet. In this 90-minute online session, you'll see detailed examples of taxonomy applications and how to leverage key design principles across your organization. Stephanie and Seth will give you a better understanding of your own taxonomy and the navigation of your information. You'll get your content management system under control and improve your search results.
Ever have trouble explaining why a taxonomy is important to your colleagues at work? Seth and Stephanie will show you how. You will also hear three detailed case studies: Motorola, American Greetings, and The Urban Land Institute.
Use multiple taxonomies to describe aspects for a piece of information

Leverage your taxonomy when implementing your wayfinding solutions

Improve search applicability and improve both precision and recall

Create a unified search approach for known and discovered content
Purchase this presentation today, so you can stop wrestling with the organization of information on your web site or intranet.
Stephanie explains what you'll learn in this 90‑second preview…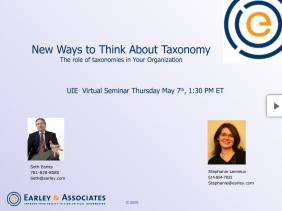 Why Stephanie?
If words like "SharePoint," "CMS," or "taxonomy" are part of your day-to-day lingo at work, then consider Stephanie Lemieux your design coach. After all, she's an expert in transforming content into more flexible, meaningful user experiences.
As the principal of Dovecot Studio, Stephanie has helped diverse clients such as Nickelodeon, Arcade Fire, and the United Nations to make more sense of their content. And it's no surprise – she's got an uncanny ability to recognize common taxonomy issues, then re-structure content to create more helpful, usable products.
Before founding her consulting studio, Stephanie worked at Earley & Associates, where she helped clients including Best Buy, American Greetings, and Motorola. She also wrote "Integrating Taxonomy and Content Management" in the first volume of Information Management Best Practices.
Get more taxonomy goodness on Twitter by following @dovecotstudio