Virtual Seminar
Play the project game in a different way
Replace passive collaboration with active collaboration
Integrate UI design with user stories
Make UX planning part of the project rhythm
Topics:
UX design in Agile can be a frustrating experience when teams are more focused on delivery over the quality of the experience. But the thinking behind major Agile methods such as XP or Scrum can be applied to UX design, too, and Anders is going to show you how.
He'll provide an evocative mental model illustrating how the Agile game is played. Then, he'll walk you through a series of techniques that will both help you understand Agile thinking and apply it in your daily practice.
Play the project game in a different way

You'll hear the history of Agile, including its glorious benefits and typical dysfunctions.


Get away from the UX relay race within Agile development
Recognize gaps in Agile and bridge them with UX thinking

Replace passive collaboration with active collaboration

You'll engage in workshop activities as a team to generate shared understanding.


Transform project kickoffs with Collaborative Chartering and Ideation Clearinghouses
Develop a shared team vision that truly supports designing ahead

Integrate UI design with user stories

You'll shift your thinking to avoid jumping straight to solution design.

Write user stories focused on context
Create lean documents that can be easily updated as a project unfolds

Make UX planning part of the project rhythm

You'll get to concurrent team participation faster and build real products that users love.


See how simultaneous UX design works within sprints
Bake design studios, usability days, and research segments into the UX process
You already know that UX decisions touch every part of a project. But integrating them with Agile to communicate, estimate, and deliver the product is critical to winning.
Fortunately, after this seminar, you'll be ready to knock it out of the park.
Anders explains what you'll learn in this 90‑second preview…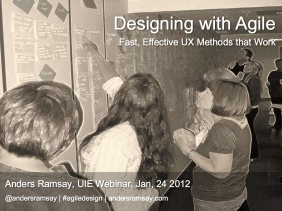 Why Anders?
Anders Ramsay describes himself as an obsessive and passionate explorer of ways to more effectively bridge the Yes/No world of computers with the Maybe-this/Maybe-that world of people. And that undying curiosity is exactly why he is one of the most sought-after UX designers today.
Beyond designing usable products for clients such as AOL, CBS, and Sony, Anders also is writing a book for Rosenfeld Media. In 2012, watch for the release of Designing with Agile: Lean User Experience for Successful Products
Can't wait for Anders' book? Neither can we! But you can tell the awesome folks at Rosenfeld Media to let you know when it's available.
And if you want even more, you can catch Anders at his NYC IA Meetups or on Twitter.