Collaborative Improv: Building Better Products Through Improvisation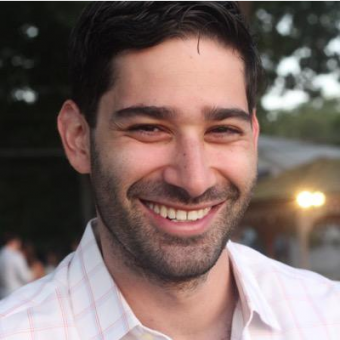 Facilitating the design process can be the most difficult part of a designer's job. Project teams are comprised of people with different backgrounds, skill sets, personalities, etc. and this gives the design process more depth, but it also can make communicating and collaborating difficult. David Farkas, Associate Director of Experience Design at EPAM Systems, is an interaction designer by day and an improv troupe member by night. His interesting and unusual background enables him to share some unique and pragmatic advice as to how to deal with some of the challenges designers face.
In David's book, Collaborative Improv: Building Better Products Through Improvisation, he clarifies, "Improv is a lens that teaches active listening as a business skill." He draws parallels from the improv world to the design world and shows how teams can communicate and collaborate more effectively. He demonstrates how building engagement with an audience corresponds to building engagement with corporate stakeholders.
In this seminar, David explains about how good improv teams become great and how good product ideas become industry-wide disruptors when teams strive for the common good and put the show, or product's success, before their own success. He emphasizes how it's not how clever of a designer you are or how elegant of a solution you can design. It's about making your stakeholders, users, and customers the star of the show.
Watch this seminar if you design, build, or manage products and you want to communicate, facilitate, and collaborate more effectively.
Determine the relationship between improv and product design
Define what improv is (and what it isn't)
Discover ten rules of improv and how they apply to design
Develop a deeper understanding of improv to engage your audience (customers and stakeholders)
Examine how the mindset of improv focuses on listening and storytelling
Participate in "Yes and…" and "No instead…" exercises that encourage better brainstorming
Apply improv principles to your organization
Uncover where and how you can use improv in your company
Explore how to use different types of body language to build trust and consensus
After watching this seminar, you may not be ready to jump on stage and perform improv. However, you will be able to share practical and insightful tips with your team on how to improve their skills in listening, brainstorming, collaborating, and facilitating and how to enhance your company's overall product design process.
Resources & Activities from David
CollaborativeImprov.com - Games, Vocabulary, and Blog on Collaborative Improv content
Activities Mentioned: