Virtual Seminar
Recruiting for Usability Testing: Getting the Right People in the Room for User Research and Usability Tests
September 2009
90 minutes
Understand where to source your participants and how to use selection criteria to screen them
Improve the show rate of participants, learn how to compensate them, and deal with no-shows
Do the recruiting yourself, but also know how you can work effectively with a recruiting agency
Do this process the right way, improve your results and get beneficial user research
Topics:
User experience research lives or dies by the appropriateness of the participants in the study. If the participants match the real users, you're set. But if the participants aren't like the target users, the project probably dies an ugly death. Worse, the design that is based on the bogus data croaks in public.
But UX researchers just don't talk about recruiting. Many researchers actively ignore it, throwing it over the wall to an agency. When talking with UX researchers, I'm hearing that they actively fear recruiting. It's complicated, time consuming, and nerve-wracking. In this UIE Virtual Seminar, you'll learn four strategic steps to make recruiting a fun, useful, and interesting benefit to user research.
Recruiting for Usability Testing
You can spend lots of money on recruiting, lose sleep over how many test participants will show up, and get more results than you know what to do with. Using examples from projects that differ in size and scope, Dana will show you the tricks to use to maximize your time and money on the right participants to get the right results.
This seminar removes the fear and loathing that stems from user research recruitment. You'll learn the strategies and techniques needed to easily obtain great participants and minimize no-shows.
Understand where to source your participants and how to use selection criteria to screen them

Improve the show rate of participants, learn how to compensate them, and deal with no-shows

Do the recruiting yourself, but also know how you can work effectively with a recruiting agency

Do this process the right way, improve your results and get beneficial user research
If you are involved with user research projects and spend any amount of time worrying about getting the right people in the room, then this UIE Virtual Seminar is for you. Ready to register yet?
Dana explains what you'll learn in this 90‑second preview…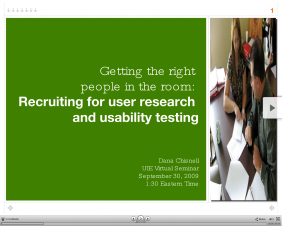 Why Dana?
Recruiting doesn't need to be hard and doing it yourself has great value. Don't believe us? Well, we've asked someone we consider to be the expert in usability testing to help you tackle this part of the process – Dana Chisnell.
Dana is the co-author of the must have book on user research testing, The Handbook of Usability Testing 2nd edition . Though much of the Handbook is about the process of usability testing, one of the major updates in the book from the first edition are about recruiting participants for usability tests.
Dana is an independent usability consultant and user researcher who founded Usabilityworks in San Francisco, CA. She has been doing usability research, user interface design, and technical communications consulting and development since 1982.
Dana took part in her first usability test in 1983 while she was working as a research assistant at the Document Design Center. It was on a mainframe office system developed by IBM. Since then, she has worked with hundreds of study participants, for dozens of clients, to learn about design issues in software, hardware, web sites, online services, games, and ballots (and probably other things that are better forgotten about). She has helped companies like Yahoo!, Intuit, AARP, Wells Fargo, E*TRADE, Sun Microsystems, and RLG (now OCLC) perform usability tests and other user research to inform and improve the designs of their products and services.