Virtual Seminar
The Road to Informed Decisions
Tailor specialized research techniques, such as Five-Second Tests and Inherent-Value Tests
Build out your analysis toolbox, with easy-to-execute techniques, such as conducting a pair-wise comparison or building a weighted decision matrix
Bring your entire team to consensus on the most important design issues in under an hour
Compare multiple design alternatives using solid user research quickly and cost effectively
Topics:
Every design consists of thousands of decisions. Smart, well-informed decisions lead to a great design, while poor, uninformed decisions result in something users despise. Making the right decisions is critical to the design's success.
Solid user research methods, such as usability testing and field studies, help us learn about our users and their needs. However, collecting the data is just the first step. To succeed, we must assemble the seemingly random stuff we learned into a coherent and confident set of recommendations for the team to act on -- often with a tight schedule and a limited budget.
In this presentation, Jared M. Spool shares state-of-the-art techniques to get from observation data to informed decisions. He shows you the best practices for teams to organize chaotic data, develop consensus, bring objectivity out of subjective observations, and produce clear design recommendations. You'll learn how to maximize your research investment with a concrete set of analysis techniques.
The techniques you'll learn in this seminar are perfect whether you're new to user research or you want to add to your analysis toolbox.
Tailor specialized research techniques, such as Five-Second Tests and Inherent-Value Tests

Build out your analysis toolbox, with easy-to-execute techniques, such as conducting a pair-wise comparison or building a weighted decision matrix

Bring your entire team to consensus on the most important design issues in under an hour

Compare multiple design alternatives using solid user research quickly and cost effectively
Jared explains what you'll learn in this 90‑second preview…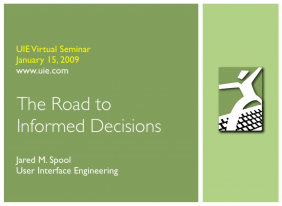 Why Jared?
Jared Spool took UX to a new level in 1988 when he launched UIE. And by, "to a new level," we mean "validated UX as a vital component of our work, then spent the next 25 years conducting research and writing tirelessly to keep validating it."
Fortunately, for users everywhere, his continued efforts are still paying off.
Jared often can be found onstage, where he captivates crowds with stunning data that reveal how UX can affect a company's bottom line. He's helped thousands of companies worldwide to increase their profits, identify interaction failures, and integrate UX research and design into their product development cycles.
Reaching designers is a priority, too—aside from these virtual seminars, Jared and the UIE team organize annual conferences chock full of hands-on, practical workshops led by the best industry minds around.
One last thing: Jared is a masterful storyteller with a seemingly endless supply of energy and practical advice, too. He rarely takes the spotlight for our virtual seminars, so this will sell out fast—snag your spot now.