Virtual Seminar
Mobile-First Responsive Design
September 2012
89 minutes
Jump into responsive design for mobile
Clean out your closet
Make designs load faster on mobile devices
Optimize your images for mobile viewing
Topics:
Many websites we see in the mobile browser look beautiful but struggle to perform. This slowness comes from optimizing designs for the desktop, then extending them to mobile.
So if this is your traditional process, take heart: it's about to change for the better!
Start practicing mobile-first responsive web design by reordering your CSS, assets, and images. And learn how from Jason Grigsby, co-author of Head First Mobile Web. He'll show you how to handle retina-display images and which tools to use for mastering mobile first.
Jump into responsive design for mobile

You'll dispel your fears of what it means to do mobile first.

Learn why adapting designs from the desktop doesn't work well
Integrate mobile-first thinking into your design process

Clean out your closet

You'll get rid of the junk your mobile CSS doesn't need.


Reorder and restructure your stylesheets to prioritize mobile
See how sizing for the desktop (or larger) affects mobile viewing

Make designs load faster on mobile devices

You'll learn how to optimize designs to be lightning fast.

Prevent multiple downloads of CSS images
Load JavaScript features conditionally based on screens

Optimize your images for mobile viewing

Your designs will become peak performers on mobile.

Master image tags for responsive images
Handle retina images for multiple sizes of retina displays
If you're curious about what it takes to do mobile-first responsive web design, then seize the day! Your mobile users will thank you.
Jason explains what you'll learn in this 90‑second preview…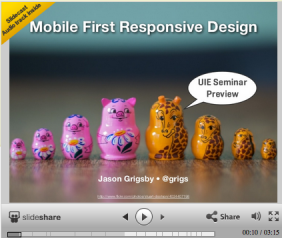 Why Jason?
Remember when you got your first mobile phone? How you instantaneously became obsessed with the global potential of carrying such powerful connectivity right in your pocket?
OK, maybe that's a bit strong. But it is exactly what Jason Grigsby felt when he bought his first mobile phone in 2000.
Since then, Jason has built a renowned career championing mobile design. He co-founded Cloud Four, a mobile design and development agency, and founded Mobile Portland to educate and support Portland's mobile community. He also co-authored a book, Head First Mobile Web, and manages to energize everyone (including us!) whenever he speaks on the topic. Catch him on Twitter @grigs.