Virtual Seminar
Sketching for Understanding
You'll learn to…
Sketch with purpose
Sketch within large teams
Sketch with remote teams
Topics:
"Show, don't tell" is a phrase often heard these days. With collaborative sketching techniques to orient and unify teams, it's no surprise that you are embracing sketches to explore design ideas earlier in a creative process.
But what are your goals for sketching, and how do they translate to your organization or team? And what are some great techniques you can start using right now?
Find out from Nathan Curtis of EightShapes. He'll lead you through the processes, people, and purposes behind different types of sketches. Whether you're trying to sell your ideas, crystallize disparate discussions, or engage remote teams in UX decision-making, you'll be glad you've got Nathan—and loads of new sketching exercises—on your side.
Sketch with purpose

You'll see where sketching fits—and explore the tools of the trade.

Create low- or high-fidelity sketches depending upon your goals
Organize sketches using details like titles, colors, and labels
Go from sketches to prototypes when selling multi-platform, functional design ideas

Sketch within large teams

You'll dig into Design Studios and critique.

Form multidisciplinary teams and assign them activities
Connect group objectives to ideas, then pitch them effectively
Structure critiques to be a positive and encourage exploration

Sketch with remote teams

You'll use IPEVO beyond in-studio settings to include peers
and clients from afar.

Configure your local environment to accommodate remote sketching
Conduct remote studios, standups, and reviews
Capture, share, and discuss ideas without needing your inbox
Nathan explains what you'll learn in this 90‑second preview…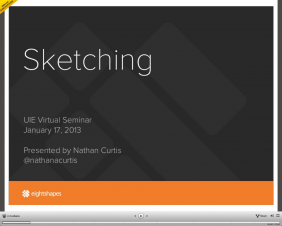 Why Nathan?
Nathan Curtis has been swimming in the deep end of the UX pool since 1996, when he started focusing his creative energies on IA, ID, usability, and front-end development. He's also an entrepreneur at heart, having founded the renowned EightShapes in Washington, DC, where he continues to make a splash today.
Nathan, who authored Modular Web Design, also led other UIE seminars we suggest watching, including How to Create a UX Design Library from September 2010 and Components vs. Patterns from January 2009. He also held a virtual seminar in 2011 on this topic of HTML prototypes if you need a primer. Find him on Twitter @nathanacurtis