A User-centered Approach to Product Planning and Visioning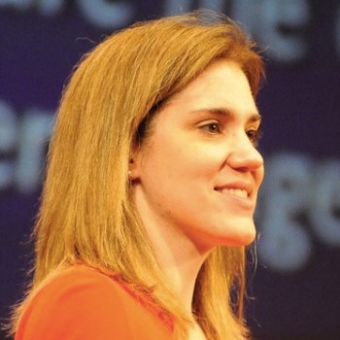 Defining a long term vision for your product can be an exercise in frustration. For starters, it can be difficult to get cross-functional teams and stakeholders to align on a single direction even for the short term — even when you're 100% certain that your current product vision is nowhere near meeting your users' needs.
Christine Perfetti developed the Launch It approach to give teams a process and framework they can use to work collaboratively to map out a long term product vision for their products. The process unites teams behind one product vision and gives you a product roadmap that will guide the Product and UX team's decisions and priorities.
Christine will walk you through each step of the product visioning process, from planning and research to creating concrete deliverables to inform your product vision. She'll share her insights into the best user research methods and her tried-and-true methodologies for prioritizing opportunities for your product. And she'll teach you how to run your own product visioning workshop — one that's guaranteed to result in a 3-year product vision.
Create an experience brief outlining your product requirements
Define your business goals, user goals, and required features/functionality
Conduct stakeholder interviews to inform your experience brief
Conduct in-depth research to inform your product vision
Review the basics of ethnographic research and user interviews
Create personas and journey maps
Run a product visioning workshop
Iterate rapidly using familiar elements of the design studio methodology
Identify opportunities to achieve your product vision using the KJ Technique
Prioritize opportunities to act on your product visions
Vote on which opportunities are "must haves," "should haves," and "could haves"
Rank opportunities based on business values, user values, and the degree of effort required to achieve them
Attend this seminar if you want to:
Map out a unified, long term vision for your product that aligns with user needs
Learn a collaborative, iterative approach to product visioning
Run your own product visioning workshops
Creating compelling and delightful user experiences isn't about magic. There's a science to it, one that Christine Perfetti has spent over a decade exploring. Join her for this Virtual Seminar, and you'll have all the tools and techniques you'll need to help your company plan, prioritize, and create amazing products and experiences.