Virtual Seminar
Answered! Your Top Questions on Web Form Design
Create a form length that captures all the information you need without alienating your users
Make the right choice when selecting buttons or links to guide your users' actions
Help your users take the correct form path, and avoid obstacles in completing it
Topics:
Web forms are the linchpin to a user's engagement with your design. All too often these forms, the last and most important step in a user's journey, are poorly thought out or crafted. It's common to struggle with forms—knowing exactly how to design it so the user doesn't abandon it.
How long should your form be? Is it best to break a form into multiple steps? What are the considerations for a two-column design? How do you handle international addresses? These are just a few examples of what countless others have wrestled with in their form design. You are not alone.
When it comes to form design, we turn to one of the foremost experts in this area, Luke Wroblewski. Luke will share his treasury of common form challenges and their solutions. He'll divulge 6 important aspects of web form design that everyone wants to know more about.
Create a form length that captures all the information you need without alienating your users

Make the right choice when selecting buttons or links to guide your users' actions

Help your users take the correct form path, and avoid obstacles in completing it
It's a struggle to find good forms. Sometimes it's hard to tell when you make mistakes with your own. Are you creating a web form that encourages abandonment or captures bad data? Join us for this seminar and you will be able to confidently answer the toughest questions about your own design. You'll understand where to place action buttons, in what order, and when to combine them with links. In capturing your users' information, you'll learn how to create field that allow them to choose how to populate it, and in a form that doesn't ask for unrecognizable pieces of data.
Luke's 14 years of designing web experiences will give you insights and best practices that you can act on immediately. Once you listen to this master craftsman share his knowledge on form design—their structure, elements, and interaction—you'll be on your way to more effective form design.
Luke explains what you'll learn in this 90‑second preview…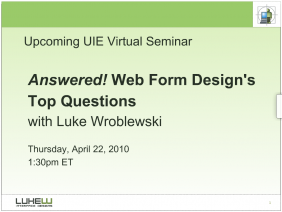 Why Luke?
Where do we start? It's no accident we asked Luke to share his thoughts on mobile design with you. We could tell you he is our go-to guy on forms and mobile design, but that would be a vast understatement. Luke is currently the CEO and Co-Founder of Input Factory Inc., an Internet start-up focused on creating big value from micro mobile interactions. Prior to this, Luke was the Co-Founder and Chief Product Officer of Bagcheck which was acquired by Twitter just nine months after being launched publicly.
Before he was founding start-up companies, Luke was an Entrepreneur in Residence (EIR) at Benchmark Capital, the Chief Design Architect (VP) at Yahoo!, Lead User Interface Designer at eBay, and a Senior Interface Designer at NCSA: the birthplace of the first popular graphical Web browser, NCSA Mosaic.
Luke is the author of three popular Web design books (Mobile First, Web Form Design & Site-Seeing: A Visual Approach to Web Usability).
A frequent presenter at UIE events such as the UI Conference and UX Immersion, Luke receives rave reviews and is always one of the highest rated speakers.You can follow him on his site LukeW.com or at @LukeW