Virtual Seminar
Effectively Moderating Usability Tests
Balance how much to interact with participants while they're working on tasks
Find the right balance between making participants feel comfortable and being too friendly
Act accordingly when participants get stuck, or even fail a task
Give assistance without biasing the participants
Topics:
The observers are in place and your user is ready to go. The stakeholders are watching your every move. You're worried. Is the room too hot? How should I start? What am I missing?
Conducting a usability test can be stressful, but you know how important this effort is. Effectively moderating a usability test is a critical part of your user research. It can put the design team on the path to success or failure in the next steps of a product's design. Relax, you can do this. With a little guidance, and some practice, you can master this art of interacting with you users and get the results your organization needs.
Balance how much to interact with participants while they're working on tasks

Find the right balance between making participants feel comfortable and being too friendly

Act accordingly when participants get stuck, or even fail a task

Give assistance without biasing the participants
Effectively moderating a usability test means obtaining good data. In the seminar, Beth Loring will give you the skills you need to successfully interact with participants. Can you be unbiased and neutral regarding your product while being open and approachable to participants? Moderating is an art – you can learn the basics, but becoming a really effective moderator takes practice. Beth will give you tips and techniques to rehearse before being in your next live session.
Beth will cover six "golden rules" for moderating usability tests. These rules are from the book Moderating Usability Tests: Principles for Interacting with Participants that she co-authored with Joe Dumas. The creation of these best practices stems from the reality that most practitioners learn (only) by example. Through these rules, she will give you the underlying principles of interacting with test participants.
In this UIE Virtual Seminar, you'll hear about real usability test sessions that went well... and not so well. Thinking about these issues ahead of time will help you make decisions and trade-offs when the heat is on in the testing room. You'll acquire skills that will ease your fear going into your next user research study.
Beth will answer your questions and offer some strategies to consider. Whether you've conducted hundreds of usability tests or about to do your first one, this seminar is sure to give you valuable tips to use right away.
Beth explains what you'll learn in this 90‑second preview…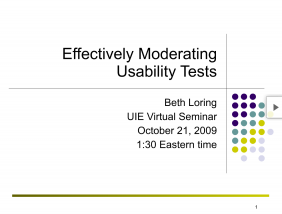 Why Beth?
Beth is the Director of Research and Usability at Farm Design, Inc. She is a human factors specialist with extensive experience in product design and usability, having expertise in user requirements gathering, ergonomics, user interface design, and usability testing. Beth has published extensively and is coauthor of Moderating Usability Tests: Principles for Interacting with Participants Joseph Dumas (Morgan Kaufmann Publishers, 2008). She has moderated over a thousand usability test sessions over the past twenty-five years.
Prior to joining Farm Design, Beth was Director of the Bentley Design and Usability Center, where she managed a team of usability consultants and graduate students and taught professional education courses on user-centered design. Before that, Beth was a Principal Research Scientist at AIR, a usability consulting firm, where she managed the consumer product design practice. In addition, Beth spent five years as the human factors team leader at IDEO Product Development in Boston.
Beth holds an MS in Engineering Design from Tufts University and is a Certified Human Factors Professional. She has received design awards from IDEA/Business Week and ID Magazine. Beth is the past chair of both the New England Chapter of HFES and Boston CHI.