Virtual Seminar
Plays Well With Others: Survival Skills for Design Teams
Thursday, June 23
90 minutes
1:43pm ET
Recognize what makes someone an effective designer
Understand, and best utilize, strengths and weaknesses
Characterize the situations and circumstances in which you thrive
Help managers use your skills and talents more effectively on projects
Topics:
Despite what you read in job descriptions, web designers are not a uniform mass of Photoshop / HTML / JavaScript / Wireframing / Sitemapping skills. Some designers emphasize "implementation" skills, while others emphasize "planning" skills. There are designers who specialize on interaction, or interface, or content. Some see these distinctions as fixed, others as arbitrary.
Those lines are drawn in the sand, and they're frequently washed away by waves of design trends, methodology fads, and new challenges. Ultimately, however, those distinctions have no impact on whether you are an effective designer or not.
You're not going to want to miss what Dan Brown has to share in this new seminar! Team leaders will learn to assess talent and skills available to them for more efficient and effective projects. Designers will understand what they need to best fit on an effective team.
Effective designers get things done. Creating designs that successfully solve problems are just part of what they do. They encourage forward movement toward a project's conclusion.
Designers face many constraints and circumstances: impassable arguments with your team, communication obstacles, misaligned expectations. Technical skills and design talent aside, there are some characteristics that you can cultivate to make you a more effective designer. Collaborating with clients and colleagues, ensuring your outputs are meaningful and accessible, and meeting your deadlines are just some of these characteristics. And frankly, no matter how talented you are, no one can abide a jerk.
The first step in all of this is being self-aware, acknowledging both your strengths and weaknesses, being honest with yourself about your talent, identifying a good role for yourself on projects, and understanding what you need to succeed.
In this virtual seminar, Dan Brown will identify several characteristics he uses when evaluating the "soft skills" of a new team member. These are questions he asks about himself all the time, in an effort to remain not just good, but effective.
Recognize what makes someone an effective designer

Understand, and best utilize, strengths and weaknesses

Characterize the situations and circumstances in which you thrive

Help managers use your skills and talents more effectively on projects
Dan explains what you'll learn in this 90‑second preview…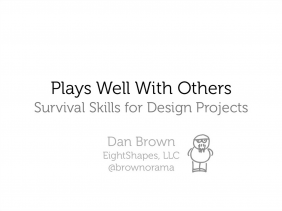 Why Dan?
EightShapes, a user experience design firm based in Washington, DC, collaborates with their clients to design web sites and other interactive products. They employ user-centered techniques and the latest methods for documenting design. The team at EightShapes does extraordinary work, and when they do something, they do it right. So in considering an online seminar, our talks evolved into a full program of teaching experience design—this desire to share their learning being one of the organization's core values.
Dan Brown is a principal and founder of EightShapes. His experience includes work with National Geographic, Cisco, WebEx, US Department of Energy, US Department of Education, to name just a few. He's written numerous articles in information architecture and design, and in 2006 published Communicating Design, widely considered part of the "UX canon." Newly updated, the second edition (New Riders, 2010) expands on principles for creating user experience documentation.