Virtual Seminar
Upgrading Your UX Team
Sunday, June 21
90 minutes
12:40pm ET
Understand the key ingredients of developing a successful UX team; people, location, methods, and goals
Work within the broader culture of your organization, be it engineering-centric, sales & marketing-centric or design-centric
Understand how company culture helps define your UX team, and why culture can unexpectedly undermine your success
Set up your team, know where it fits within the organization, and why it should be be closest to the folks making decisions
Use simple and effective ways to continually communicate your vision and successes through shared resources and foundation teams
Align UX goals with business goals using some simple tools
Topics:
You're asked to lead a team, or are part of the team, that is responsible for the user experience within your organization. Sounds exciting, but most people in the company aren't sure what it means to them. Within your organization there are departmental silos, each with their own goals and objectives. The decision makers who asked you to be responsible for this half-hearted initiative think that by making someone responsible for it, that will get it done. What do you do?
Carrying the User Experience flag through your organization can be a daunting task. Whether you're a UX-Team-of-One or have an 20-person Experience Design team in place, our research shows that organizations are varied in their readiness to accept and act upon this idea of User Experience Design. To pull off successful design, regardless of where your organization is, you need to be sure your team has the right skills, is in the right place, and has champions in the organization to help spread the word about this shared vision.
Obstacles and barriers can be many. Do any of these sound familiar? The organization's set up doesn't allow you to accomplish your goals and the UX team isn't close enough to the decision makers. The organization has no solid UX vision or strategy. Or the culture within the organization isn't focusing on the right things, so time and resources don't support your UX initiatives. Having a solid strategy, involving your team, can help you make headway even in these scenarios.
Want help in developing that solid strategy? We've asked Sarah Bloomer, a User Experience professional who's helped several companies set up internal UX teams, to help you do exactly that. You'll learn 4 strategies to deal with resistance to your team's efforts.
Understand the key ingredients of developing a successful UX team; people, location, methods, and goals

Work within the broader culture of your organization, be it engineering-centric, sales & marketing-centric or design-centric

Understand how company culture helps define your UX team, and why culture can unexpectedly undermine your success

Set up your team, know where it fits within the organization, and why it should be be closest to the folks making decisions

Use simple and effective ways to continually communicate your vision and successes through shared resources and foundation teams

Align UX goals with business goals using some simple tools
We know many of you bring your teams to the UIE Virtual Seminars. If you've been waiting to bring management to help them understand how the vision and strategy must be shared by all in the organization, this is the one to pick. If you feel you're struggling to make your UX team as effective as it can be, then Sarah's presentation is a must! Register today.
Sarah explains what you'll learn in this 90‑second preview…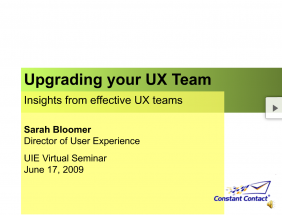 Why Sarah?
Some of the biggest questions we hear these days are about teams. What type of skill set do we need? How should it fit into the organization? How do I evangelize the UX message beyond just the team and out into other departments? Well, we think there's no better person to start us down this path than Sarah Bloomer. She's thought a lot about teams, vision and strategy, and knows what it takes to lead a team to success through a collaborative process.
Sarah has created user interface designs and customer experiences for over 20 years. She co-founded The Hiser Group in 1991, an interaction design company with a focus on usability. Through Hiser she helped establish the field of user-centered design in Australia.
Sarah's interaction design draws on her experience designing GUIs for multiple platforms, from Motif to Windows and web applications, intranet and internet websites for both corporations and government. Sarah helps clients set up internal user centered design teams and establish strategies for bringing user centered design into their organizations. Sarah led the conceptualization and development of The Hiser Element Toolkit, a user-centered design methodology created to help companies rapidly set up usability teams.
In 2002, Sarah returned to the US and joined The MathWorks as a senior interaction designer. In 2006 Sarah established Boston based Sarah Bloomer & Co to focus on user centered design research and design facilitation. In 2009, Sarah joined Constant Contact as Director of User Experience.
Sarah has delivered papers, tutorials and workshops at respected usability and user experience conferences in Australia, Asia and the USA. Her articles have appeared in international professional publications. She has taught user centered design and screen design to hundreds of practitioners. Sarah holds an MS from New York University in interactive software design and a BA from Smith College. She served as a master's supervisor at The Royal Melbourne Institute of Technology.
You're sure to enjoy Sarah's presentation and we're thrilled to have her talking about this critical topic of Upgrading Your UX Team. You won't want to miss this.