Virtual Seminar
Designing Better Navigation for Web Applications
Step back and see global navigation as a separate application with its own needs and constraints
Design liberating and powerful applications without designing global navigation first, leading to a better application design and a better global navigation design
Use Hub Diagrams to create an overview of your navigation system that works the way your users think
Identify common mistakes in tab, menu, and tree-based navigation systems that you can avoid
Topics:
At some point, everyone who designs web applications runs into problems with the global navigation system. There may be too many tabs, everything is wedged into a tree, users can't find things, it takes too many clicks to get to the right screen, or perhaps the navigation system is growing out of control, crowding everything else off the screen. What should we do?
In this presentation, Hagan Rivers will lead you through the design of global navigation for an imaginary application called Biblio Tech - a tool for librarians. She will show how to go from wireframes to a hub diagram, to the key elements of the navigation system. Then, you will see the same application with Tabs, Menus, and Tree navigation.
Hagan will show other applications that use these three navigation systems: Tabs, Menus, and Trees and in so doing, explore the advantages and disadvantages of each one. As we look at these systems, Hagan will also point out some common problems and solutions for these navigation systems so that you can avoid making the same mistakes. You'll learn to view the global navigation as an application in its own right, with its own needs and constraints.
Finally, Hagan will show off some new navigation systems that are worth watching: bringing new ideas to the table and offering better solutions for us all in the future.
Step back and see global navigation as a separate application with its own needs and constraints

Design liberating and powerful applications without designing global navigation first, leading to a better application design and a better global navigation design

Use Hub Diagrams to create an overview of your navigation system that works the way your users think

Identify common mistakes in tab, menu, and tree-based navigation systems that you can avoid
If you're struggling with your web application's navigation system, or if you're setting out to design a navigation system, you don't want to miss this seminar.
Hagan explains what you'll learn in this 90‑second preview…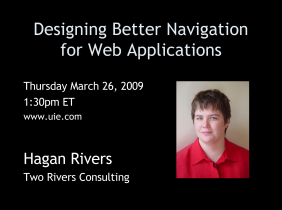 Why Hagan?
With 23 years of experience in designing user interfaces for organizations such as Sun Microsystems and Netscape, Hagan has a comprehensive answer to the question, "How can I simplify this chaotic UI?"
Hagan is an expert on the what, why, and how of good (and bad) interface design for complex interactions. Since founding Two Rivers Consulting, she's been answering her calling to design beautiful and useful dashboards for companies worldwide. And after this seminar, you'll be well on your way to doing the same.
Plus, before the session, you can check out her info-packed UIE podcast, "Simplifying Complex Interactions," or follow her on Twitter @haganrivers.