Virtual Seminar
Designing with Scenarios: Putting Personas to Work
What makes scenarios uniquely powerful as design tools
Know where scenarios can help you bring your design's key points to life
Use scenarios to help you imagine ideal design solutions
Use scenarios as silo busters, showing you how to bridge the different parts of a system or organization
Understand how scenarios can help drive your sketching and storyboarding
Topics:
Scenarios are the engine we use to drive our designs. A scenario tells us WHY our users need our design, WHAT the users need the design to do, and HOW they need our design to do it. A great set of scenarios captures the essence of the design we're creating.
Compared to long-winded and impossible-to-read functional requirement specifications, when done well, scenarios are bite-sized adventures of our users. They put the design into context, giving us a tool to identify the critical functionality while they help us to decide quickly what can wait for a future release. They tell us what language to use and what the flow of the screens should be. They help us expand on what our products and services are all about.
Because scenarios are stories, they come to life for the team. They exploit a human desire: to tell and to hear stories. Armed with well-thought-through scenarios, your team will be ready to produce innovative designs that will put a ding in the universe.
How will designing with scenarios make you a hero?
A team at a medical device manufacturer looks at their recently compiled scenarios and suddenly sees several new markets they could easily move into—markets currently ignored by their competitors.
At an e-commerce retailer, simple scenarios revealed how their site's registration process was a huge barrier. Within weeks, the team saw a 33% increase in sales and a significant decrease in abandoned shopping carts.
Another medical device company re-crafted their design process to include scenarios. The new approach cut their overall product development time in half, while dramatically increasing cross-team collaboration.
We've seen these stories dozens of times. Learn how scenarios can have this type of affect within your organziation.
What makes scenarios uniquely powerful as design tools

Know where scenarios can help you bring your design's key points to life

Use scenarios to help you imagine ideal design solutions

Use scenarios as silo busters, showing you how to bridge the different parts of a system or organization

Understand how scenarios can help drive your sketching and storyboarding
Kim explains what you'll learn in this 90‑second preview…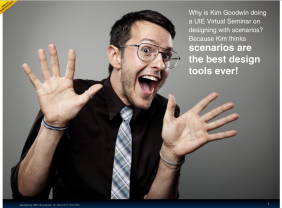 Why Kim?
Nobody has more experience bringing personas and scenarios to design teams than Kim Goodwin. Much of the modern thinking about using personas and scenarios in design came from her time while she was VP of Design at Cooper. And her book, Designing for the Digital Age, is a treasure trove for anyone who wants to ramp up their design skills to the next level.
We've learned that Kim has many impressive attributes, but one that jumps out at us every time is her experience. You immediately get the impression that she's been there. Throw any design situation her way and she instantly responds with a project she's worked on and how they got through that problem.
Kim has spoken at so many of our events, we've lost track. Yet we keep asking her back because every audience loves her. You and your team surely will, so save your spot today.