Virtual Seminar
Discussing Design: The Art of Critique
Structure projects to include more feedback loops
Listen to stakeholder comments with increased objectivity
Separate problem solving from critical thinking
Give and receive critiques differently, and for the better
Topics:
We've all been there. Just as a design nears final approval, a decision-maker enters the picture to suggest "tweaks" that shift the project's course. And the worst part? That person doesn't understand all the reasons for your design decisions!
But wait, is that gloomy perspective only held by the design team responsible?
Find out the answer by getting a reality check on critiques from Adam Connor. He'll describe how to give, receive, and act upon feedback while confidently guiding your projects through beneficial feedback loops. With the right approach to critique and collaboration, your designs will be stronger than ever.
Structure projects to include more feedback loops

You'll see how powerful and positive critiques truly can be.

Create an environment for people to share freely and often
Integrate collaborative critiques to identify strengths and weaknesses

Listen to stakeholder comments with increased objectivity

You'll become a stronger designer.

Overcome the communication challenges that can hold you back
Analyze the core problem that the feedback is highlighting

Separate problem solving from critical thinking

You'll adopt a perspective that results in more effective designs.

Remove "What if we did this..." from critique sessions
Facilitate discussions to understand context for decision-making

Give and receive critiques differently, and for the better

You'll react less and adapt more. And it'll feel awesome.

Approach feedback as opportunities rather than insults
Communicate goals, then ask questions before making statements
Critiques are a critical component for improving our designs! Capitalize on them sooner by registering for Adam's seminar now.
Adam explains what you'll learn in this 90‑second preview…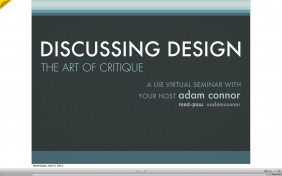 Why Adam?
Adam Connor never tires of explaining why collaboration and critique are critical elements of the design process. And this is a perfectly awesome characteristic of an experience design director at Mad*Pow.
Adam also is a renowned artist and illustrator with more than a decade of experience in creating digital designs. He speaks regularly on the power of critiques at industry conferences from IA Summit to Web 2.0, and his vocal support for Design Studios continues to positively influence the way designers work today.
So if you've ever felt your brow furrow when someone tells you, "Just one more thing," then you're going to love Adam. PS: He's @adamconnor on Twitter.