Virtual Seminar
Lean UX: Getting Out of the Deliverables Business
Work faster, smarter, and happier with lean UX
Emphasize experiences over deliverables
Understand what to expect when integrating Lean UX into your processes
Know which 5 Lean UX tools you should start using today
Topics:
The efforts of UX designers historically have been defined by deliverables like wireframes, sitemaps, diagrams, and inventories. But hark! An evolution is afoot!
Today, UX designers are creating delightful and intuitive user experiences far beyond "The Spec™." And guiding this movement is the practice of Lean UX, a new way of working that merges Lean Product and Agile development theories.
In this course, Jeff describes the positive impacts Lean UX has on existing processes, communications, and team interactions—and all to the benefit of users, colleagues, and bosses everywhere.
Work faster, smarter, and happier with lean UX

You'll hear how principles of the Lean Startup movement and Agile are breaking down entrenched obsessions with UX documentation.


See how validation, iteration, and prototyping are driving the Lean UX movement
Embrace speed and sketching—without sacrificing quality

Emphasize experiences over deliverables

You'll learn to discuss the business, marketing, and communication benefits of adopting Lean UX.


Find out how to remove perceived limitations on user experiences
Replace documentation with conversations that focus on a shared team vision

Understand what to expect when integrating Lean UX into your processes

You'll start to build a culture of cross-functional, positive critiques that make for great designs.


Validate design hypotheses through smart, low-cost usability testing
Build consensus by iterating quickly and eliminating single points of "failure"

Know which 5 Lean UX tools you should start using today

You'll learn which UX tools make any project a success.


Create task-flow interactions specific to a site's content
Run a dynamic design exercise that emphasizes collaboration
Jeff explains what you'll learn in this 90‑second preview…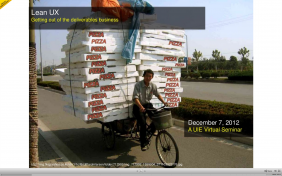 Why Jeff?
Jeff Gothelf has worked for many years as a product designer and team leader. These days he's spending more time as a teacher, workshop leader and public speaker. He published and co-authored his first book, Lean UX: Applying lean principles to improve user experience (O'Reilly 2013), and has led successful, cross-functional, collaborative, agile teams at organizations of all sizes.
Jeff mainly focuses on building and training evidence-based, customer-centered product development teams. These teams often utilize lean principles and agile software development.
In 2012, along with Josh Seiden and Giff Constable, Jeff launched a lean product design and innovation studio called Proof in NYC where they worked with companies (big and small) building and designing innovative product ideas while helping those organizations adopt leaner development processes. In late 2012, Proof was acquired by Neo Innovation Labs – a larger organization backed by Eric Ries and Joi Ito with an identical vision.