Virtual Seminar
Visual Design for Web Applications
Use key points to use as a checklist or to plan your visual design
Incorporate brand into your design
Recognize when you should be consistent, and when it's important to be inconsistent
Consider new terms—Stage, interaction planes, and affordances—what they mean and why they're important
Start down in the trenches of your application, rather than the dashboard or home screen
Topics:
Web applications live in this strange world, half application, half web site. Something as simple as making a command look like a command, quickly becomes a critical decision. Do you make it a button? Should it be a link?
Sometimes, in web application design, it feels like every pixel matters. This isn't just a question about the application's aesthetics. Visual design can have a huge impact on how the application communicates its use.
When visual design isn't clear and concise, the user's focus strays. It forces the users to guess at what the designers are trying to tell them.
There are countless books and presentations about visual design that talk about alignment and white space, and even some color theory. While these may provide a foundation for creating successful screen designs, they don't address many of the real world constraints of application designs.
In this seminar, David Rivers discusses a number of considerations for creating or updating your application's visual design. He'll show you how to make it successful and delightful. As is typical of Two Rivers' presentations, this Virtual Seminar is loaded with real-world examples and insight that you won't want to miss!
Web sites are all about conveying information, about consumption. Web applications are all about accomplishing work. That distinction is important because accomplishing work requires things that consuming information doesn't: repetitive tasks, multiple and even sometimes conflicting goals, work flows, multiple inputs, and state machines, just to name a few. Much of the material David will cover is applicable to web applications and to web sites.
David will cover several important points of visual design for web applications. Taken together, these points can help you form a visual style guide for the screens of your application. Individually, each will take your app up a notch in several dimensions: appeal, usability, comfort and comprehension. David's talking points include: the "stage," interaction planes, branding, color and lighting, consistency, borders, boxes and alignment in the real world, fonts, affordances, and mock ups with real data.
Visual design problems affect an application's success in a variety of ways. In the mildest form, they slow users down and distract them from their task. In the worst cases, they confuse users to the point of giving up or needing assistance. If the application is in the organization's revenue stream or helps reduce costs, we've seen visual design issues can dramatically affect the bottom line.
Use key points to use as a checklist or to plan your visual design

Incorporate brand into your design

Recognize when you should be consistent, and when it's important to be inconsistent

Consider new terms—Stage, interaction planes, and affordances—what they mean and why they're important

Start down in the trenches of your application, rather than the dashboard or home screen
David explains what you'll learn in this 90‑second preview…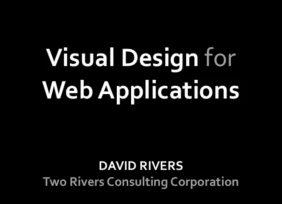 Why David?
We've known David for some time, and in fact, completed a high profile project with him just last year. We love the work he's doing at Two Rivers Consulting, a design consulting firm located in the Boston metro area. David's experience is with large and complex web applications that are trying to accomplish many things for many users for large chunks of their working hours.
We're asking David to give this presentation specifically because his visual design work does more than just make something look pretty. He has a proven track record of creating visual designs that enhance usability and clarity in the interaction design at places like Sun, Apple, Netscape, and for 15 years as a UX consultant.
There are other reasons we're thrilled he's part of our Virtual Seminar program and the perfect presenter for this seminar. He's not just an expert in design, but also happens to be an excellent teacher—a fortunate combination for us.
He's super smart and a treat to work with. OK, he's even a treat when you're not working, just sitting around a table tearing into some sort of ethnic food.
David also designs and builds his own furniture, and continues to renovate and remodel his home. He also loves to sail fast catamarans. These interests enhance his appreciation for real-world design, implementation details, and eking out the best performance from a design.