Virtual Seminar
Mapping the User Experience
Learning the what, when, and how of experience maps
Creating effective experience maps
Mapping journeys using 4 principles
Using experience maps as a catalyst
Topics:
As services become more interconnected across channels and devices—and more importantly across time and space—it's becoming increasingly important to find ways to gain insight about customers' interactions with your service.
Experience maps offer a framework for mapping human experiences across multiple situations and interactions, helping to ensure that every occasion where your organization touches or connects with a person's life is appropriate, relevant, meaningful, and endearing.
Chris will show you how to orchestrate touchpoints and their channels through experience maps. He'll review an experience mapping framework used to drive the deign of a multi-touchpoint experience. You'll see the activities that feed into the journey so that it tells a tangible story, the key elements that make up a useful and actionable map, and how to then define the characteristics of your mapped touchpoints.
Experience maps are intended to be catalysts, not conclusions. We'll focus on the power and peril of the touchpoint—where customers connect with your product or service, and map the customer journey across touchpoints and channels.
Register your team for this seminar, and start mapping your users' experience.
Learning the what, when, and how of experience maps

Tell deeper, richer stories about your users' journeys
Map users' interactions by orchestrating specific touch points

Creating effective experience maps

Learn which 5 components make for successful maps
Construct powerful artifacts customized for your projects

Mapping journeys using 4 principles

Integrate qualitative and quantitate data about your users
Unite your organization around a shared understanding

Using experience maps as a catalyst

Identify touch points that have the DNA of the larger journey
Design end users' touch points to be emotionally relevant
Chris explains what you'll learn in this 90‑second preview…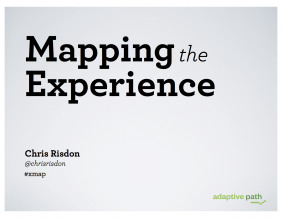 Why Chris?
When we saw Chris present this topic at the 2012 IA Summit in New Orleans, we knew we had to have it for the UIE Virtual Seminar program.
Chris is a design director at Adaptive Path. He started a journeyman career in information architecture and product strategy in 1997. Over the past 16 years he has applied a combination of graphic, interaction and service design to successful products and services for both large enterprises and start-ups.
Chris holds an MFA in design from the Savannah College of Art & Design and spends his free time as an educator, teaching interface design in Adaptive Path's UX Intensive workshops and is also currently an adjunct professor at the California College of the Arts.