Virtual Seminar
Give Your Users a Seat at the Table: The Characteristics of Effective Personas
Ensure your personas pack a punch
Lead purposeful, transparent interviews
Channel personas through first-person stories
Make UX design decisions differently
Topics:
You already know that personas are a tool, not a goal. But involving stakeholders in the creative process and evolving personas throughout the project lifecycle can be, well, challenging.
So if you want to use personas more fully, where do you start?
With Whitney Quesenbery, of course! She'll show you the Characteristics of Effective Personas and describe how to use them for improving user experiences. You'll learn to bridge research with design, lead collaborative brainstorming activities with teams, and build products that users will love.
Ensure your personas pack a punch

You'll see how stories can complement, expand, and explore persona data.

Describe experiences using context, motivation, and emotion
Find out how personas can inspire usability test scenarios

Lead purposeful, transparent interviews

You'll get meaningful answers from your users to enlighten teams and stakeholders.

Conduct effective interviews with role play and exploration techniques
Discuss learnings openly, with the entire team, to identify patterns and gaps in personas

Channel personas through first-person stories

You'll recognize empathy as a vital element to user experience design.

Write stories that describe personas' desires, reactions, and histories
Lead group workshops to define tasks and expected paths for each persona

Make UX design decisions differently

You'll balance business needs and constraints with personas' goals.

Vet a feature's value against persona goals and resource availability
Recruit and involve representative users in the feature prioritization process
Give your users a seat at the table by weaving personas into your daily work. Register today to learn how, and take advantage of a special offer.
Whitney explains what you'll learn in this 90‑second preview…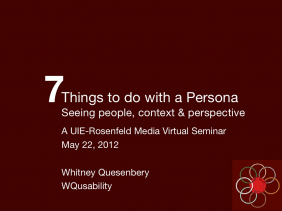 Why Whitney?
Combine a fascination with people and an obsession to communicate clearly and you've got the makings of a phenomenal UX researcher.
Now, throw in usability design experiences for organizations such as the National Cancer Institute and the New York Times, and ground-breaking research on democracy as a design problem for the Center for Civic Design, plus engaging interpersonal skills and you've got Whitney Quesenbery.
Whitney is an authority on gathering the user insights to "design products where people matter." In fact, she's authored three books on the subject. The most recent, A Web for Everyone, offers practical advice on making innovative and accessible sites. Storytelling for User Experience: Crafting stories for better design and Global UX: Design and research in a connected world help practitioners keep users in mind throughout the creative process. Follow Whitney's practical UX advice anytime on Twitter @whitneyq.